Subscribe: Google Podcasts | Spotify | Stitcher | RSS | More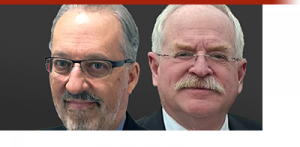 Jim talks with Fred Beuttler and Mark Stahlman about their new online graduate program, Trivium University. They discuss the trivium & the quadrivium, instilling a better sense of grammar, the current digital paradigm, five paradigms in communication technology, the outsourcing of memory, retrieving scribal ways of thinking, why we need another university, re-centering professor-student interaction, cost disease in higher education, three spheres in geopolitics (East, West, and digital), the replacement of globalism, shaping a new generation of leaders, alphabetic vs logographic thinking, the Ukraine War as conflict between 3 spheres, what it means to be human, averting the geopolitical dangers of the Davos attitude, Net Assessment, setting Great Conversation over Great Books, averting World War III, and much more.
Mark Stahlman is a biologist, computer architect and ex-Wall Street technology strategist.  He is the President of the not-for-profit Center for the Study of Digital Life (CSDL, 501(c)3,  digitallife.center) and its educational project Trivium University (Triv U, trivium.university).  He is also CEO of Exogenous, Inc. (EXO, exogenousinc.com), a strategic risk analysis group and on the editorial staff of its publication, the Three Spheres Newsletter (TSN).  He studied for but did not complete advanced degrees in Theology (UofChicago) and Molecular Biology (UW-Mad).  He has been widely interviewed and published, including teaching online courses (available on YouTube via 52 Living Ideas).
Fred W. Beuttler, Ph.D. is a fellow at the Center for the Study of Digital Life (CSDL), as well as one of the founding administrators of CSDL's new Trivium University.   He also teaches history at the University of Chicago's Graham School for Continuing Liberal and Professional Studies. From 2015 to 2019 he was the Associate Dean of Liberal Arts Programs at the Graham School, overseeing a masters in liberal arts, the "great books" certificate program for adults, and the Fortnight in Oxford. From 2010 to 2015 he was Director of General Education at Carroll University, in Wisconsin. In 2012 and 2013 he was a Fulbright Senior Lecturer in Germany, where he taught American political history. Prior to his return to academia, he was Deputy Historian of the U.S. House of Representatives, in Washington, DC, from 2005 to 2010, where he coauthored and edited a number of histories of House committees. He received a BA at the University of Illinois, an MA from Trinity International University, and his Ph.D. in history from the University of Chicago, with a dissertation entitled, "Organizing an American Conscience: The Conference on Science, Philosophy, and Religion, in Their Relation to the Democratic Way of Life, 1940-1968."