Subscribe: Google Podcasts | Spotify | Stitcher | RSS | More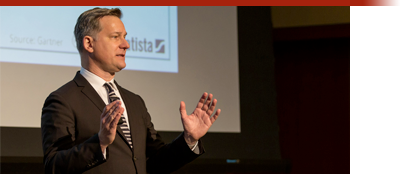 Robert Tercek talks to Jim about his book, Vaporized: Solid Strategies for Success in a Dematerialized World. They cover the usefulness of the vapor metaphor, centralization vs decentralization, the impact of closed application ecosystems, value in intangible assets, hardware vs software profitability, the telling story of Tower Records, rapid consumer market changes, big tech bundling strategies, the birth of mobile games, Epic Games vs Apple, digital goods, race to the VR metaverse, digitized smart cities, future TV evolutions, interactive TV & Twitch, switchboards vs platforms vs markets vs ecosystems, and much more.
Robert Tercek is one of the world's most prolific creators of interactive content. He has created designed and created interactive experiences on every digital platform, including satellite television, game consoles, broadband Internet and mobile networks. He provides strategic insight and advice to many companies, including Nokia, Motorola, AMD, Sony Computer Entertainment, Turner Broadcasting, PBS, CNN, Interpublic Group, and Reed Exhibitions. He is the Chairman of the Board of Directors for the Creative Visions Foundation in Malibu, California.